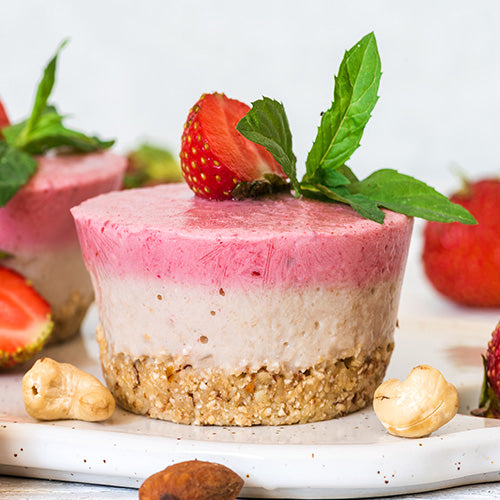 Yoghurt Berry Mini Cheesecakes
---
INGREDIENTS:
1 tsp. powdered gelatin
1 Tbsp. boiling water
1/4 cup cashew nuts unsalted
2 Tbsp. desiccated coconut
2 Tbsp melted butter or non-dairy margarine if vegetarian
Cooking oil spray
1/2 cup raspberries fresh or frozen
185 grams light cream cheese or almond milk cream cheese if vegetarian
1/2 cup vanilla yoghurt or a vegan yoghurt
1 SCOOP OF INNER HARMONY
DIRECTIONS
1. Dissolve the gelatin in the boiling water and set aside.
2. Soften the cream cheese.
3. Place the cashews, coconut, rolled oats and Inner Harmony in a food processor on high until well combined.
4. While the processor is running, pour in the butter and continue processing until the mixture begins to come together.
5. Line or lightly spray 8 holes of a silicone mini muffin tray.
6. Divide the cashew anad coconut mixture evenly between each hole of the tray.
7. Press base down firmly. If using frozen raspberries, allow to defrost.
8. Then place in a bowl and lightly mash with a fork.
9. In a separate bowl, beat the softened cream cheese and yoghurt together until well combined and smooth.
10. Fold through the dissolved gelatin.
11. You can put some raspberries on top of each muffin hole swirling gently with spoon to combine with the cream cheese mix.
12. Place muffin tray in the freezer for 1-2 hours or until firm and set.
13. One mini cheesecake is one serve.
ENJOY